MGI Hydra AK-47 Magazine AR Lower
As far as I know MGI is the only company currently offering an AR-15 lower receiver with the ability to utilize AK-47 magazines.
The MGI® MARCK-15 HYDRA is the most advanced Modular AR-15 on the planet! This Weapon System can adapt to multiple calibers without the use of any tools in just under two minutes per caliber. That's right! One Weapon…Multiple Calibers!!! The idea of quickly changing calibers on one weapon's platform almost doesn't sound possible. At MGI, the possibilities are endless and with so many calibers at your fingertips to choose from!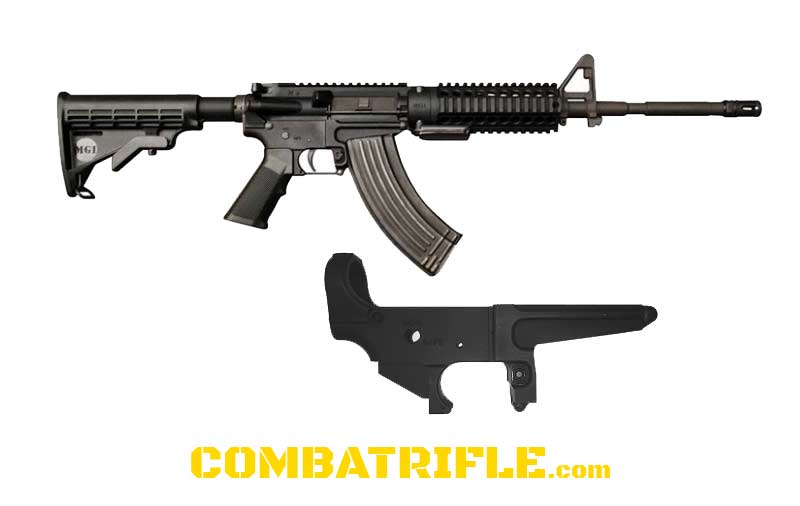 MGI Hydra AK-47 Magazine AR Lower
(MGI-LR-S-AK47)
This MGI® Stripped Modular Lower comes with an AK-47 Interchangeable Magazine Well and offers the ability to change Magazine Wells on your Lower Receiver to accommodate whatever caliber you want. Leaving it as a Stripped Lower allows any AR-15 Mil-Spec Stock and Fire Control Group (FCG) to make it complete. For use with the MGI® Quick Change Barrel Upper Receiver (QCB-D), where you can change calibers by switching out barrels as well. This is a Stripped Modular Lower Receiver and only includes an AK-47 Interchangeable Magazine Well.
**The AK-47 Mag Well was designed to be used with MGI's QCB-D (Quick Change Barrel) Upper Receiver and to use standard Warsaw Pact Metal Magazines and Thermold Polymer Magazines.**