7.62×39 AR Lower Receivers
Reliable feeding has been one of the most difficult issues to resolve with a 7.63×39 AR 15.  The primary issue is with the tapered profile of the 7.62×39 ammunition. As the cartridges stack on each other they form the shape of a banana, hence the name "banana clips". The AR-15 magazine well was designed for a straight magazine. Some magazine manufacturers have finally designed reliable feeding 7.62×39 AR magazine. That said there are a few manufacturers that recognize the solution to be an AR-15 lower receiver that accepts standard AK-47 magazines. Typically these designs are sold as complete rifles (Rock River Arms). Occasionally though there are manufacturers who do offer stripped AR-15 lowers designed specifically for 7.62×39 AK-47 magazines.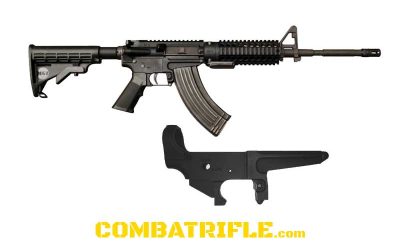 MGI Hydra AK-47 Magazine AR lower comes with an AK-47 Interchangeable modular magazine well and offers the ability to change magazine wells on your Lower Receiver to accommodate whatever caliber you want. Leaving it as a Stripped Lower allows any AR-15 Mil-Spec Stock and Fire Control Group (FCG) to make it complete.
read more